Omschrijving:
PoKeys56U is an easy-to-use USB device that combines a lot of inputs and outputs, and does not require complex programming knowledge. Pokeys56 provides 55 digital I/O (5V tolerant), 7 analog inputs (12-bit). All the I/O are controlled by the provided software which allows either to use the graphical user interface or advanced console type interface. The settings can be stored on the device, so no special software is needed on target system. PoKeys56 can be used as industrial or CNC control or data acquisition board. PoKeys is available with (PoKeys56UT) or without (PoKeys56UN) screw terminals.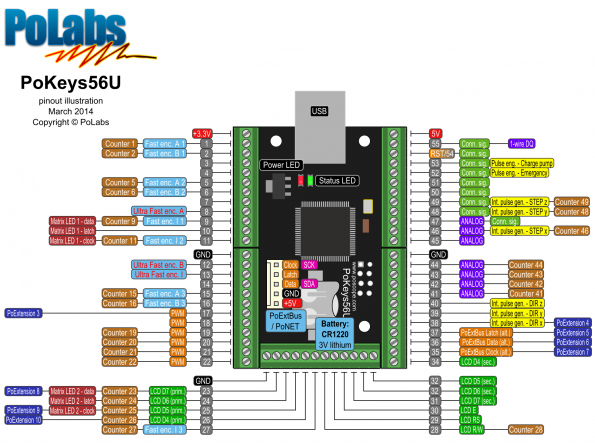 Features:
Compatible with USB 1.1/2.0 HID standard
Standard USB keyboard simulation (with triggering support for up/down keys)
Standard USB joystick simulation (6 axis, 32 buttons with triggering support)
55 digital inputs with pull-up resistors, freely mappable to virtual USB keyboard's keys
55 software controlled digital outputs
7 analog inputs (12-bit) with adjustable low-pass filtering support
3-axis 25 kHz Pulse engine
Up to 26 encoder pair inputs (3 high-speed encoder inputs, 1 ultra high speed encoder input)
Digital counters on specific digital input pins
Two 8×8 matrix LED display support
Up to 64 256-character long keyboard macro sequences
Up to 16×8 matrix keyboard with triggered keys/alternate function support
Two 8×8 matrix LED display support
Up to 6 high-speed fully configurable PWM outputs support (25MHz PWM timer)
HD44780-based character LCD support (up to 4×20 characters)
PoExtBus support for adding up to 10 external shift registers = 80 aditiona outputs
PoNET devices support (48-key CNC keyboard mapped to matrix keyboard, etc)
Support for Connection signal output
Support for up to 10 sensors on I2C bus, up to 10 sensors on 1-wire bus and up to 7 analog sensors
Communication compatible with PoKeys55 on application layer (data packet structure)
Intuitive and user-friendly software
Third-party support via communication DLL library and extensive protocol specification document that allows porting to other systems
Plugin for Mach CNC software
Support for X-Plane flight simulator
See more here: http://forums.x-plane.org/index.php?showtopic=62459
NEW:Cross-platformPoKeys communication library available here:https://bitbucket.org/mbosnak/pokeyslib
Requirements:
USB connection between host computer and PoKeys56U device
Included software requires Windows 2000/XP/Vista/Windows 7 with .NET framework 3.5 installed (ONLY FOR SYSTEMS WHERE THE DEVICES WILL BE CONFIGURED, TARGET SYSTEM NEEDS NO SOFTWARE INSTALLATION FOR THE DEVICE TO OPERATE AS A STANDARD NEWTORK DEVICE).